Shrewsbury Light Orchestra

Welcome to the SLO Website
The Shrewsbury Light Orchestra is a non-professional orchestra, founded in 1968, and provides an opportunity for musicians of all ages and abilities to enjoy making music together. Although no auditions are held, members are expected to attain a competent standard through rehearsals before appearing in concerts.
A variety of music is played including light classical, show music, film and TV themes, traditional and modern popular numbers.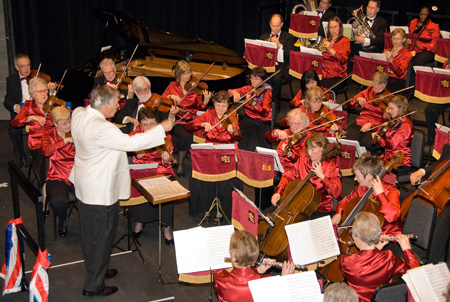 The Orchestra includes the following sections:
STRINGED INSTRUMENTS Violin, viola, cello, double bass
WOODWIND Flute, Clarinet, oboe, bassoon, saxophone
BRASS Trumpet, trombone, horn, euphonium, tuba.
PERCUSSION Drum kit, timpani, glockenspiel, etc.
We aim to provide concert performances of light music in the area in and around Shropshire's county town of Shrewsbury, and also to provide a valuable recreation for our members. The Orchestra currently has a regular playing strength of about 50 members, with other guest players who join us from time to time. The Conductor is Peter Road-Night, a former Regular Army Bandmaster and an experienced local musician and the Leader is Sheila Thompson.
Performances
Over the years the Shrewsbury Light Orchestra has given both formal and informal concerts, has performed both indoors and out and is well known throughout Shropshire, Wales and the Midlands. Regular playing holidays have taken place and the orchestra has performed in many coastal and inland places in Britain as well as in Holland where a close and friendly link with the people of Zutphen, Shrewsbury's twin town, is enjoyed. The orchestra gives several concerts during each year, and through them has raised substantial sums of money for various charities, including The Severn Hospice, The Lingen Davies Cancer Fund Shrewsbury, Christian Aid and others.
---
| | | |
| --- | --- | --- |
| | New Players | Are you a keen, competent player interested in joining us? We would very much like to hear from you. New members are encouraged to try out the orchestra first, for up to four sessions, before officially taking up membership |
| | Social Events | Social events are regularly arranged for the enjoyment of members, their families and friends |
| | Contacts | Contacting the Orchestra and links to other sites |
---
Shrewsbury Light Orchestra is a member of Making Music,
which represents and supports amateur performing and promoting societies throughout the UK.
---
The Orchestra is a Registered Charity, Number 502207